today was mad chill. i woke up around 11 thirtyish. waited for my boyfriend to pick me up. we dropped off my brother to work. afterwards we picked up butch and headed to chinatown lol. i dont care i love chinatown. cute little knick knacks for a dollar. i got a bunch of nail art gems for designing my nails. i also got a cute pink lipstick and a nail polish. derick got a baton and butch got a lighter and a pucca bag for his girl. we were walking around looking for a place to grub and then we all ended up getting bonsai trees! omg they are soo adorable! hahaa i got a little baby one. it was fun. then we drove back to the valley dropped off butch and took my brother to his friends house. derick and i went home and rested for a bit cuz of all the driving and walking. around 9 thirty we picked up butch and his girl Kit. she is soo sweet and they are so cute together! hahaha. we were supposed to go bowling but we ended up just grubbing at outback steakhouse. angie met us up. then we drove to mcdonalds to get chocolate dipped cones for dessert. we were looking for a place to chill before i had to get home so we went up to the hills on reseda. we had to jump the fence to be able to see the entire valley from where we stood. i was trippin out cuz it was dark and i was wearing sandals. hahahah and i was scared someone might see us. but omggg soo gorgeous! i forgot to bring my camera cuz i didnt want to be holding anything when i jumped the fence but i wish i did! the view was amaazzzinnngg! hopped over the fence again got back in the car and took them back to butch's pad. it was a fun day. relaxing and just what i needed. my poor baby spent alot of money treating everyone out today so we cant spend for a while. hahahaahaha butch is a little hoe! haha jk butch you knw i love you! next time were gonna take his ass to stonefire grill cuz hes never been there and cuz its bomb! we have a new couple to go on double dates with now. hahahaha. were planning on having a bonfire within. in about 3 weeks cuz eve is still busy next weekend and butch has to go to vegas the weekend after. but we were talking about just hitting the strip at the beach this upcoming weekend with just butch and kit again. yayy beach!
GRUBBING IN CHINATOWN: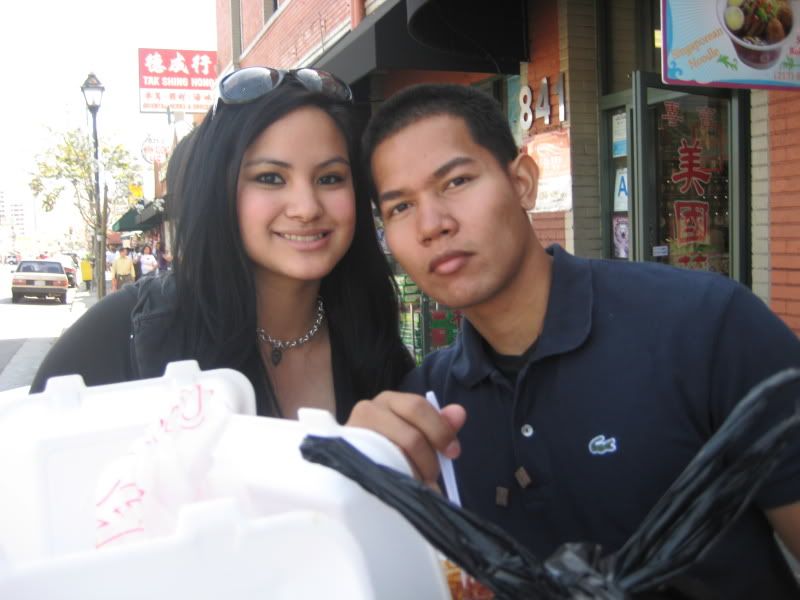 LATE NIGHT DOUBLE DATE AT OUTBACK STEAKHOUSE CUZ IT WAS THE ONLY THING OPEN. LOL. ARENT THEY CUTE TOGETHER??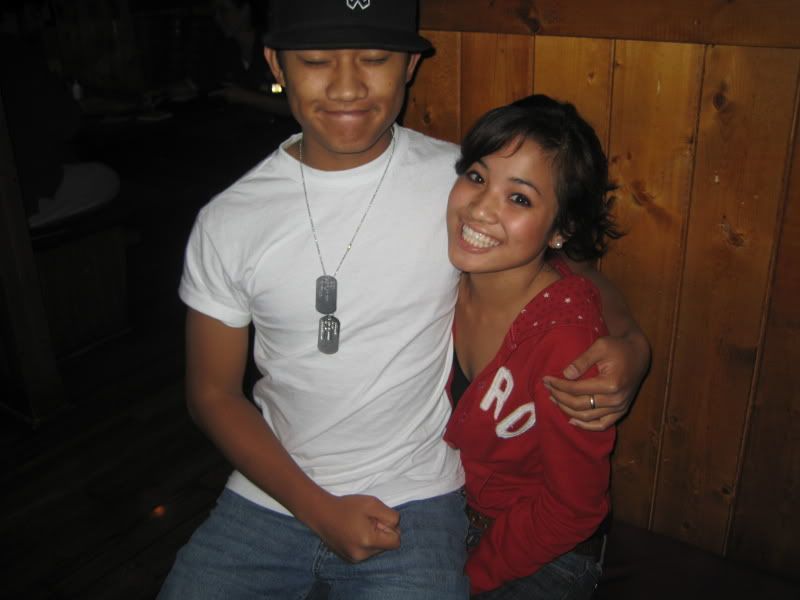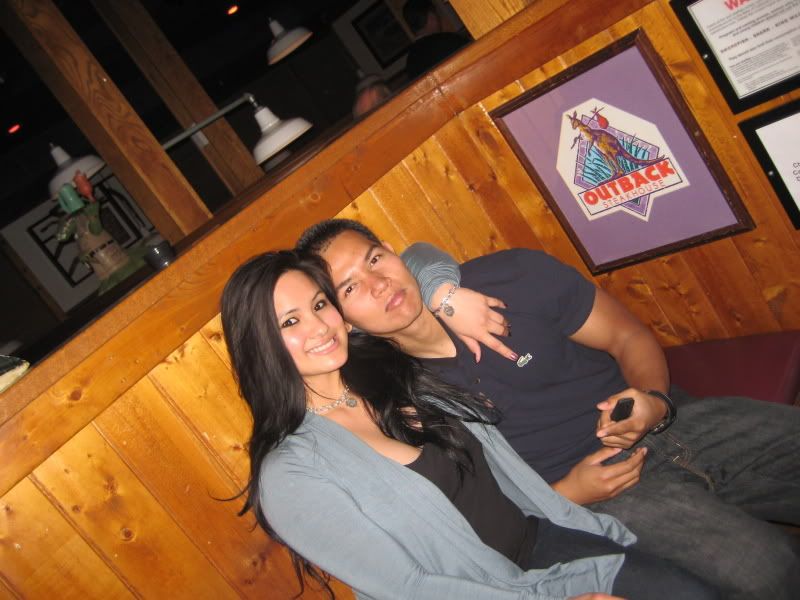 MY BABY BONSAI TREE!